Add More Light To Your Home Today!
RESIDENTIAL SOLAR ATTIC FANS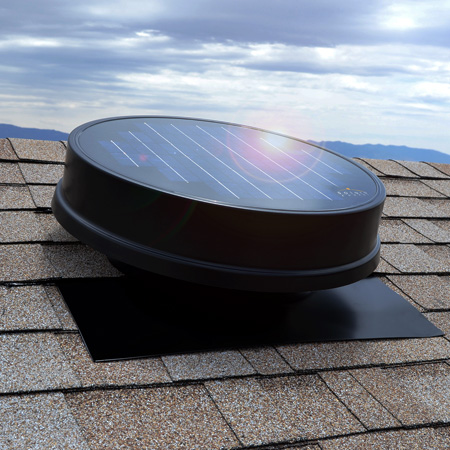 TOP OF THE LINE SOLAR ATTIC FANS AND SOLAR GARAGE FANS – Are you searching for Solar Attic Fans or Garage Exhaust Fans? If so, we offer 12 watt, 24 watt and 36 watt solar attic fans with installation to cool off any size attic or garage. Our fans use energy ONLY FROM THE SUN! ELECTRIC FREE! Here are the reasons attic fans are an essential element of home efficiency. A well-ventilated attic makes for a healthier house. An attic that is poorly ventilated can increase your heating and cooling costs. GoGreen Solar Attic Fans remove excessive heat from your attic space, allowing your Air Conditioner to function with much less effort and use of electricity – thus reducing your electric bill! Without proper mechanical attic ventilation, the built up heat in your attic is transferred into the house. Once an efficient attic fan is installed, up to 25 degrees of this built up heat is removed, thereby helping the AC unit cool your home.
A poorly ventilated attic can deteriorate your roof structure and dampen the insulation through moisture build-up in the winter and during rainfall. The R-38 insulation value in your attic is significantly reduced within a couple of years due to moisture build-up. Protect the insulation and structural integrity of your home through proper attic ventilation. GoGreen's Solar Attic Fans are especially engineered to permit an efficient fresh air circulation, which prevents deterioration due to moisture damage and provides year-round benefits to the trusses, roof decking, and insulation in your attic space. For more info, visit solaratticfan.com.
In December 2015, legislation was signed into law that extended the Solar Investment Tax Credit (ITC), which provides for a 30% federal income tax credit for residential photo-voltaic systems and Hybrid Solar Lighting. The 30% federal tax credit is in effect until December 31, 2019. Then the Federal credit drops 4% each year until it is phased out completely in 2023. State credits of 25% also qualify provided you are an Arizona resident. GOGREEN TUBULAR SKYLIGHTS AND ATTIC FANS QUALIFY FOR THESE TAX CREDITS. To see if you qualify for these credits, consult your tax professional. To find out more on Federal Tax Credits for Consumer Energy Efficiency products, please visit https://www.energystar.gov.
TO RECEIVE YOUR FREE ESTIMATE, GIVE US A CALL TODAY AT 480-861-0605.
WHAT OUR HAPPY CLIENTS ARE SAYING

"The assignment was challenging, as we were about to have solar panels installed over much of the roof, limiting the available areas for the exterior apertures of the 3 solar tubes, which had long runs to the peak of the roof and required extensions to reach both ends. Careful planning was required before the solar…

"Josh and his staff did a great job installing 6 tubular skylights in our house, as well as 2 exhaust fans in our garage and attic. They were on time, neat / clean and very friendly."

"Of all the projects in our remodeling projects this was the best. Josh installed our sixth solar tube and it was the easiest installment of all."